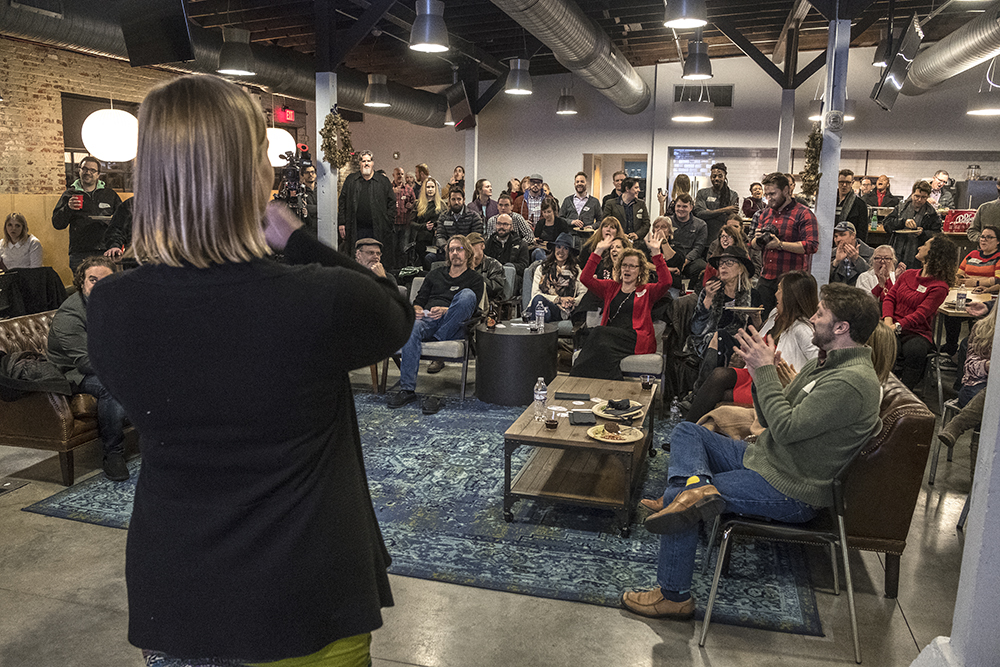 Top 25 Reasons People Join The Nashville Creative Group
Since 2012 every 2nd Monday of the month the Nashville Creative Group has come together to connect. Together we have built a community of creatives who inspire us, because we share and support one another in our journey as artists.
Today we are reaching thousands of artists everyday in our online community. We are growing fast and completely by word of mouth, so how are we growing such an highly engaged audience organically online and offline completely for free?
One reason is that we create spaces in real life and online for artists to come together to build relationships. It is in these relationships artists find answers to their questions and hope in the steps they will be taking next as they grow their career. Walking this path together is what gives us strength.
What is our secret for attracting so many creatives to our community? I decided to find out and asked new members, "Why do you want to join the group? What benefits are you seeking from the community?" Here's what they're saying.
Top 25 reasons people join the Nashville Creative Group
I've been a creative my entire life. Although I'm a musician by trade, I'm always building new things, performances, sets, and I love meeting other masterminds.
To support and learn more about the creative people in my community!
I'm an artist deep down inside, photography is my hobby, being new to the area it seems like the perfect group to join and meet like minded artistic individuals.
I am trying to learn more about art events, learning opportunities, shows, and I need to make some more art friends. I've been kind of a loner since we moved up from Florida.
I want to be inspired. I'm not so creative but like being around creative souls.
As an actor and film maker I always want to connect with those like minded individuals as myself. This is one of those opportunities to do so.
Film student working on projects for school and need to network with people and seek advice.
I want to chat and meet like minded individuals. I feel one needs to continue grow creatively and networking helps.
I'd like to promote the arts in my community.
Seeking to make friends in the creative community and to branch out of myself. I enjoy learning new things, being around people who want to engage, learn, have fun, and work hard towards their goals.
I have a friend who recommended me to this group, and from what I have read this is a group I want to invest more time in! Getting your local business out there and sharing your ideas with other local business owners is a huge deal to me!
I am looking for a creative community to share my ideas with, get feedback, and inspiration.
I'm a local artist and want to connect with others to gain and share inspiration, collaborate and to potentially network and make a name for myself in this art community!
I'm hoping to network and maybe find some talent for my business.
I would like to have more insights into the local creative community.
Looking for freelancers.
Communicating with fun and creative like minded people.
I am an actor, artist, and filmmaker looking to meet more like minded people. It seems my husband and many other friends have already found this page.
I would love to be able to brainstorm on new projects, share opportunities and spread the word about the creative work I'm doing.
I love creativity as a whole. I meet with a friend to watercolor at coffee shops on weekends, and its been really great making friends through our similar creative endeavors.
As a teacher in the area, I like to have my pulse on the community I work in.
A friend recommended it: I'm an artist who is seeking like-minded new friends.
Looking to hire someone!
Seeking to join and meet other creatives to broaden my network of potential collaborators.
Here to support others and to connect creatively!
What they're saying
Quote from Meredith Bullock
"Last night I gathered together with other artists from Nashville to show our work. There were artists of all mediums and ages and one by one we each shared a glimpse into our process. No matter the difference, there were several things we all had in common: we were passionate about what we created and having the opportunity to share it with others, calling ourselves an artist is an accomplishment, learning how to react with patience when things don't go the way we planned is vital, there's always a low point in the creative process where we have to push through our fears to get to the other side, encouragement and support from our peers means everything, the art we create is a partial reflection of our own personality and experiences, and that there is truly so much beauty in the world and we each capture it differently. Thank you Beth Inglish for hosting a wonderful event!" Meredith Bullock on Instagram
Quote from Terrell Thornhill
"Sharing my work with other creatives provides valuable feedback, critique and encouragement. I always leave inspired by seeing everyone's work, hearing why they create and learning about their processes. Camaraderie between creatives is essential to growing and sustaining a viable artistic community."
Quote from Chris Teague
"I appreciate the opportunity to see what other visual artists with more experience are working on, especially those of different disciplines. Seeing the continual effort to improve and expand encourages me to learn and keep working on my own projects."
"The Nashville Creative Group has been an excellent source of not only knowledge and skill trade, but a community to grow new rising artists and creatives. Thank you Beth for giving us a place to speak from!"
Join the Group
Join us to connect, share, make friends, support your community, attend events, network, collaborate, and more! We want to become the most highly connected hyper local artist community in the world and we already are doing it. Click here to join today!
Learn the whole story! Click here to read about us in Nashville Arts Magazine.